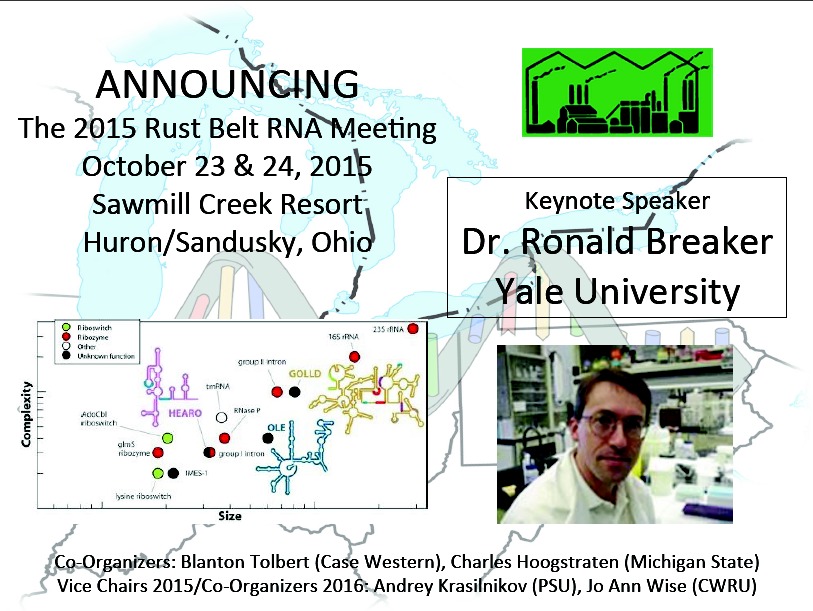 Download Poster [.pdf]
Contact
For more information, please contact the conference chairs:
Friday, October 23 – Saturday October 24, 2015
The Sawmill Creek Resort and Conference Center
Huron, Ohio
Registration starts August 25, 2015
Early registration deadline September 21, 2015
Registration closes October 10, 2015
Keynote speaker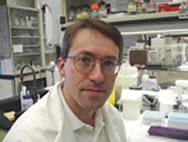 Ronald Breaker is the Chair and Henry Ford II Professor of the Department of Molecular, Cellular and Developmental Biology at Yale University, is jointly appointed as a professor in the Department of Molecular Biophysics and Biochemistry, and is an Investigator with the Howard Hughes Medical Institute. He is a longtime leader in the structure and function of nucleic acid systems, most recently winning fame as the discoverer and continuing leader in the exploration of gene regulation via small molecule-RNA interactions (riboswitches).
Award winners
This year's awardees are:
Oral awards (winners received a copy of "RNA Worlds," edited by R. Gesteland, J. Atkins, and T. Cech):
Aiswarya Krisnamohan, Ohio State, "Unexpected mechanistic features of a multifunctional tRNA methyltransferase."
James Hiznay, Cleveland Clinic, "Characterizing the role of DDX41, a DEAD-box RNA helicase, in blood cancer and the spliceosome."
Undergraduate Poster Award (the winner received a copy of James Darnell's "RNA: Life's Indispensable Molecule"):
Avan Antia, University of Maryland, "Investigating the Role of Translational Recoding in Stress Response." (Poster #5)
Graduate/Postdoc Poster Awards (winners received a copy of one of Cold Spring Harbor Laboratory Press's popular series of laboratory manuals):
Roopa Comandur, The Ohio State University, "HIV-1 subtype-specific differences in tRNALys targeting to viral RNA primer binding site." (Poster #26)
Salini Konikkat, Carnegie Mellon University, "Being present is a big part of any job, but not the only one: Multiple roles of the trans-acting Nop7-subcomplex in the assembly of yeast ribosomal 60S subunits." (Poster #68)
Rachel Simpson, University at Buffalo, "High Throughput Sequencing of Partially Edited RNAs Provides Insight into Trypanosome RNA Editing Progression and the Role of the TbRGG2 Subcomplex." (Poster #121)
Michele Tolbert, Case Western Reserve University, "High Resolution RNA Solution Structure of the Stem Loop II Domain of the Enterovirus 71 Internal Ribosome Entry Site." (Poster #135)
Congratulations again to all our award winners and to all of the outstanding research presentations at the 2015 RRM.
Meeting cost
The registration fee is $110 for all RRM 2015 participants (faculty, postdoctoral fellows, graduate students and undergraduate students) until the registration deadline of September 21, 2015. The fee will be raised to $130 after September 21, 2015 until October 10, 2015.
Please note: as part of our scholarship program, the registration fee will be waived for any minority student who attends the RRM 2015 and gives an oral or poster presentation. You will be asked to include this information on your registration if you qualify.
The registration fee covers meeting and accommodation costs for all trainees, and only meeting costs for PIs. PIs must make their own hotel accommodations: See Directions/Venue.
Checks with the registration fee should be made payable to Michigan State University and should be mailed to:

c/o Pat Ungren
Department of Biochemistry and Molecular Biology, RM 212D
Michigan State University
East Lansing, MI 48824

2015 Co-Chairs
Charles Hoogstraten, Michigan State University
Blanton Tolbert, Case Western Reserve University
2015 Co-Vice Chairs
Jo Ann Wise, Case Western Reserve University
Andrey Krasilnikov, Penn State University