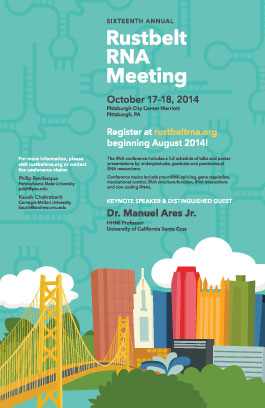 Download Poster [.pdf]
Contact
For more information, please contact the conference chairs:
Friday, October 17 – Saturday October 18, 2014
The Pittsburgh Marriott City Center
Pittsburgh, Pennsylvania
Registration starts August 7, 2014
Early registration deadline September 15, 2014
Registration closes September 29, 2014
Registration full and now closed
Award winners
The Rustbelt RNA meeting congratulates its award winners.
Oral Presenter Awardees:
Sanjaya Abeysirigunawardena (Johns Hopkins University)
Vivek Adavani (University of Maryland- College Park)
Vladimir Presnyak (Case Western)
Sandy Tretbar (UW Madison)
Poster Presenter Awardees:
Yicheng Long (The Ohio State University)
Sophie Martin (Case Western)
Spencer Gardner (The Ohio State University)
Daniel Comiskey (The Ohio State University)
Janelle Gabriel (The Ohio State University)
Catey Dominguez (The Ohio State University)
Keynote speaker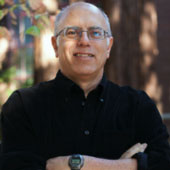 HHMI Professor Manuel 'Manny' Ares has conducted groundbreaking research in mRNA processing and contributed significantly in science education at the national and campus level. He also acted as the President of the RNA Society in 2011.
Meeting cost
The registration fee is $90 for all RRM 2014 participants (faculty, postdoctoral fellows, graduate students and undergraduate students) until the registration deadline of September 15, 2014. The fee will be raised to $110 after September 15, 2014 until September 29, 2014.
Please note: as part of our scholarship program, the registration fee will be waived for any undergraduate student or minority student who attends the RRM 2014 and gives an oral or poster presentation. You will be asked to include this information on your registration if you qualify.
The registration fee covers meeting and accommodation costs for all trainees, and only meeting costs for PIs. PIs must make their own hotel accommodations by visiting Directions/Venue.
2014 Co-Chairs
Philip Bevilacqua, Penn State University
Kausik Chakrabarti, Carnegie Mellon University
2014 Co-Vice Chairs
Charles Hoogstraten, Michigan State University
Blanton Tolbert, Case Western Reserve University