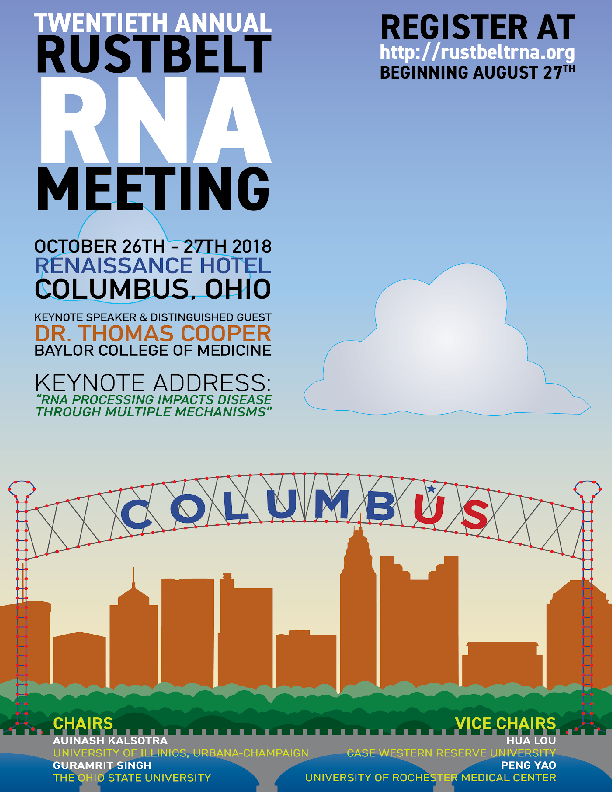 Download Poster [.pdf]
Contact
For more information, please contact the conference chairs:
Friday, October 26 – Saturday, October 27, 2018
Renaissance Columbus Downtown Hotel, 50 North Third St, Columbus, OH 43215
Registration starts August 27, 2018
Early registration deadline September 21, 2018
Registration closes September 28, 2018
Registration full and now closed
Keynote speaker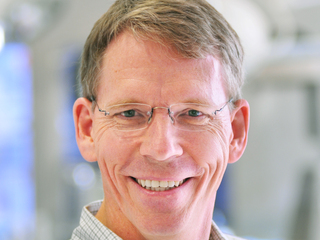 Professor Thomas Cooper

Baylor College of Medicine
Tom Cooper is a professor in the departments of Pathology & Immunology, Molecular & Cell Biology, and Molecular Physiology & Biophysics at Baylor College of Medicine. Prof. Cooper is a leader in the field of the impact of disrupted RNA processing on human disease. His laboratory identified mis-regulation of alternative splicing as a major pathogenic mechanism in the microsatellite expansion disorder, myotonic dystrophy and is currently investigating the mechanisms of pathogenesis in heart and skeletal muscle. His laboratory is also at the forefront in deciphering the role of alternative splicing in tissue remodeling to adult function during postnatal development. Dr. Cooper serves on the scientific advisory boards of Packard Foundation for ALS research at Johns Hopkins University, School of Medicine and the Myotonic Dystrophy Foundation and holds the S. Donald Greenberg and R. Clarence and Irene H. Fulbright endowed chairs in the Department of Pathology & Immunology.
Meeting cost
The registration fee is $110 for all RRM 2018 participants (faculty, postdoctoral fellows, graduate students and undergraduate students) until the registration deadline of September 21, 2018. The fee will be raised to $135 after September 21, 2018 until September 29, 2018.
Please note: as part of our scholarship program, underrepresented minority students and postdocs who attend the RRM 2018 and give an oral or poster presentation will be eligible for NSF-sponsored scholarships that cover the registration cost.
The registration fee covers meeting and accommodation costs for all trainees, and only meeting costs for PIs. PIs must make their own hotel accommodations; please see Directions/Venue.
2018 Co-Chairs
Guramrit Singh, The Ohio State University
Auinash Kalsotra, University of Illinois at Urbana-Champaign
2018 Co-Vice Chairs
Hua Lou, Case Western Reserve University

Peng Yao, University of Rochester Medical Center