Friday, September 10 – Saturday, September 11, 2021
The Renaissance Hotel in Columbus
Registration starts: June 2, 2021
Early registration deadline: August 27, 2021
Last day to register: September 8, 2021
Registration full and now closed
Keynote speaker
Professor Hashim Al-Hashimi
Duke University School of Medicine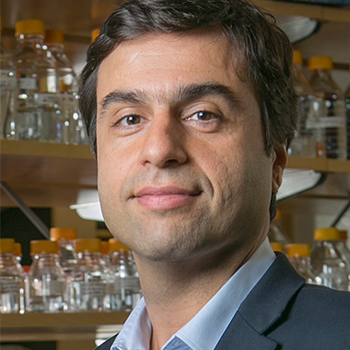 Dr. Hashim Al-Hashimi is James B. Duke Professor of Biochemistry and Chemistry at Duke University School of Medicine and is the Director of the Duke Center for RNA Biology. He received his doctorate in Biophysical Chemistry from Yale University, where he developed novel NMR methods to study the structure and dynamics of proteins. He then developed and applied NMR methodology to study the structure and dynamics of nucleic acids as a postdoctoral fellow at the Memorial Sloane-Kettering Cancer Center. In 2002, he started his own lab in the Department of Chemistry and Biophysics at the University of Michigan, and in 2014, Dr. Al-Hashimi moved to Duke University. He is the recipient of several awards and honors including the Founder's Medal in NMR Spectroscopy, the Vilcek Prize for Creative Promise in Biomedical Science, and the Agilent Thought Leader award. Most recently, he was awarded the prestigious 2020 National Academy of Sciences Award in Molecular Biology. His laboratory focuses on understanding RNA folding and dynamics, and applying these findings to enable the design of new RNA targeting ligands in drug discovery applications.
Meeting cost
The registration fee is $110 for all RRM 2021 participants (faculty, postdoctoral fellows, graduate students and undergraduate students) until the registration deadline of August 27, 2021. The fee will be raised to $135 after August 27, 2021 until September 9, 2021.
Please note: as part of our scholarship program, underrepresented minority students and postdocs who attend the RRM 2021 will receive scholarships to cover the registration cost sponsored by NSF and the RNA Society.
2021 Co-Chairs
Laurie Read, University of Buffalo

Kotaro Nakanishi, The Ohio State University

2021 Co-Vice Chairs
Sara Simmer, University of Minnesota

Wenqian Hu, Mayo Clinic

Jonatha Gott, Case Western Reserve University